Hi everyone! The January round of The Liaison Collaborative's 'Classic Romance' theme is now open and our newest release, The Isabelle Clock with bookshelf decor can be found there.  It's a working clock, menu-driven so you can change timezone and also has optional chime sound effects. Available in a painted white, pink, blue or pine and dark wood finishes, each clock has texture-change options for the face, books and shelf interior.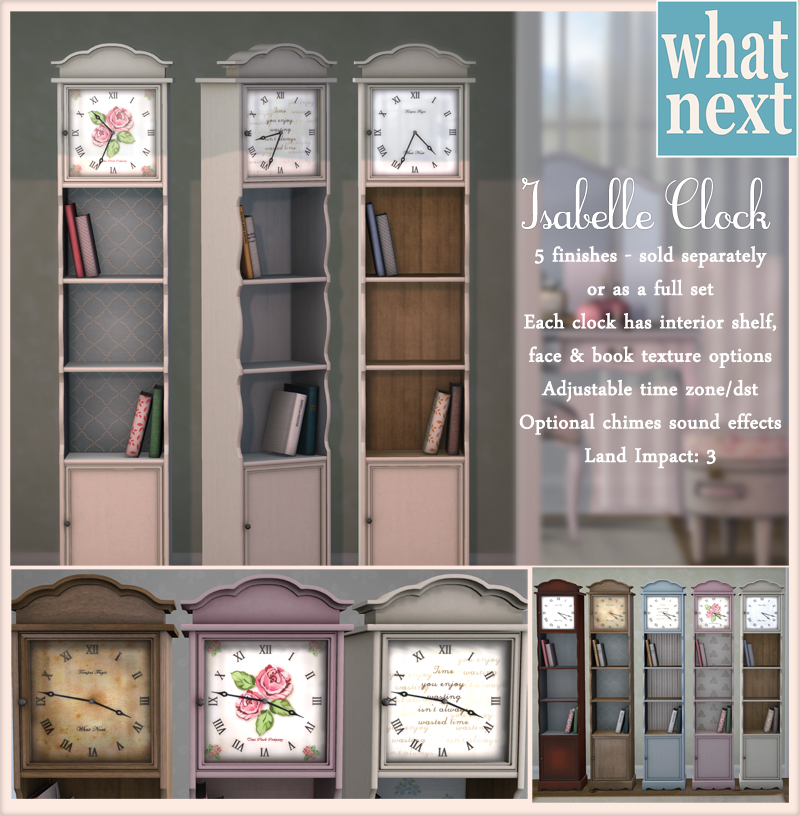 With multiple shelf interior options such as plain or painted wood, or patterned (stripes, roses, floral and more not all shown in the picture above), the clock is a versatile piece for any room. If you already have our Isabelle Vanity Set, the clock complements it nicely.
The clocks are sold separately by finish/colour, or sold as a complete set for a saving of over 65% compared to purchasing individually. They'll only be available at The Liaison Collaborative event until February 12th.
SLurl to  The Liaison Collaborative 
January 2015 Catalogue – see all the products available this round before you visit
Hope you can visit!
By Winter Thorn
———————————————————————-
{what next} main-store
{what next} on the Marketplace
{what next} on Flickr